Posted on
June 2nd, 2008
by Punning Pundit
As I understand it, conservatives think that it is silly to talk with Iran until Iran A) stops supporting Hammas B) gives up it's nuclear ambition C) stops repressing its own people. Doing anything about point C) would violate the priciples of the treaty of Westphalia, so I assume this is mere saber rattling.
As for the rest: my understanding is that these are the points to be negotiated. Which means setting them as preconditions indicates that certain parts of our governing class really do not wish to meet at all– outside the field of honor. This, of course, makes them wildly out of touch with most Americans: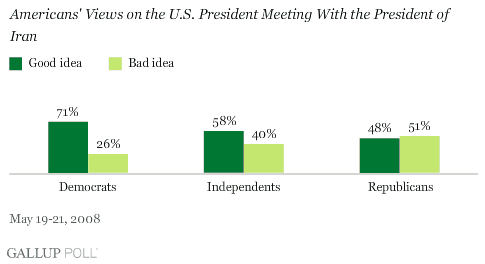 .
Seems like talking with people we don't like in an attempt to settle our differences is a political winner. Who knew?